Seed Starting on a Budget
Something to know about me, I am cheap. Cheap, cheap, cheap, cheap…. cheap. And, I love to recycle anything I can. Two traits passed down from my parents that I do not hold against them. With that in mind, there are a lot of expensive equipment/supplies out there that you can purchase for seed starting, grow lights, heated mats, special soil, etc. I have been starting seeds successfully for 4+ years with minimal expense… here is how. I will show you step by step from starting the seeds, to transplanting the seedlings, and out to the greenhouse we go.
The Setup
-A couple of shop racks, I like the rolling metal one the best.
- 4' plug in shop light for each lower shelf. I use regular fluorescent bulbs. Last year when I needed bulbs I bought the ones marked as providing "daylight". There are very expensive grow lights out there, while they probably do work just as well, trust me …you don't need them.
- Some chains and hooks to hang the lights from. Make sure it is a set up that allows you to easily raise and lower the lights as the plants grow.
- A timer to set the lights on. I have mine come on at 6:30 am and go off at 9:30 pm.
- A place to set up the grow stations that maintains a temperature of 60-70 degrees Fahrenheit. I prefer my sunny, East facing windows because it is just that much more light and warmth.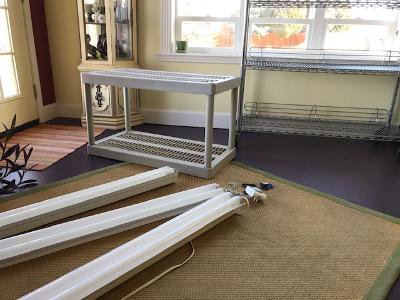 The Basics
- When… most seed packets suggest 4-8 weeks before the last frost. So based on Boise, ID weather, I find that mid-February gives me time get the plants to a decent size for planting in the yard or giving to friends.
- Quality potting soil. Organic or not, up to you. I don't bother with the seed starting soil or the little peat pots, I find that both dry out too quickly and just aren't necessary.
- Clear lidded containers. I save rotisserie chicken containers all year and take out/veggie tray containers are great as well. Note, you will want the lid to have a couple of small air holes if it doesn't already.
-Seeds!! I save them from my garden in the fall, friends give me their extras, and every year I buy at least a couple of new kinds that seem intriguing. I have a serious problem with seed hoarding. P.S. I keep them in my garage fridge year round.
- Tape and marker for labeling. I used medical bandage tape this year and really like it.
- Bamboo skewers – dollar store or any grocery store. I use them for planting and especially transplanting the starts.
- Water, duh.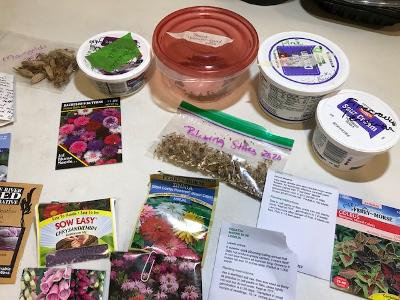 Planting
- Mix up some of your soil with water in a bucket. I use warm water and you want the soil wet enough to clump in your hands but not dripping wet.
- Put 1 ½" to 2" of soil in your container and plant the seeds at the depth suggested on the package or of course, Google is your friend if it is a seed you saved. A good rule of thumb is the smaller the seed the shallower it should be planted.
- Label your container. At least the name of the plant but if you are going to do a plant journal and keep track of germination time, etc. then you will want the date also.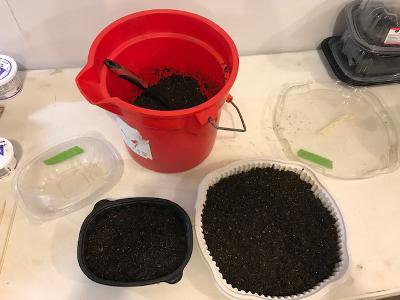 And Grow!
- Put the plants on the shelves with the lids on and adjust the lights to hang about 4-6" above them.
- Because these containers act as little greenhouses, a lot of moisture will start to build up on them quickly. After about two days, start lifting the lids to let some moisture out and check your soil. You want it to be nicely damp in there but not soggy wet and you don't want mold to start growing. If a little mold does start to grow, generally just letting it dry out a bit takes care of it and your container will still be successful. I go look at my containers every morning before work and every night to be sure they look good.
- Some seeds sprout in less than a week but some will take two weeks or so. If it is your first time and you are looking for almost guaranteed satisfaction, start zinnias, tomatoes, cucumbers, and/or squash.
-Zinnias never fail me even if the seeds are a couple of years old, they are gorgeous all summer, the bees and hummingbirds love them, and the seeds are easy to save in the fall. They come in all different sizes and colors… you simply cannot go wrong with a zinnia.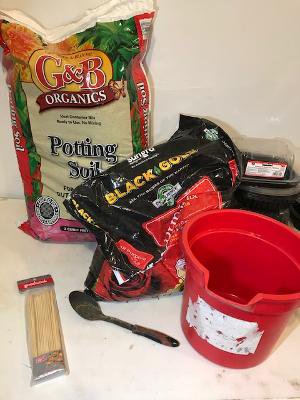 Transplanting – The Next Step
It has been a week and several of my seeds have started to sprout, the zinnias of course, my Antique white straw flowers (experiment for this year), and the coleus. So my next article will show you how to transplant all of those sprout babies using lots of recycled/upcycled items.
Article by guest blogger, Jenni. She has also contributed a blog post about bunnies and compost here: https://gardentronic.com/blog/rabbits-amazing-npk-cute-package/